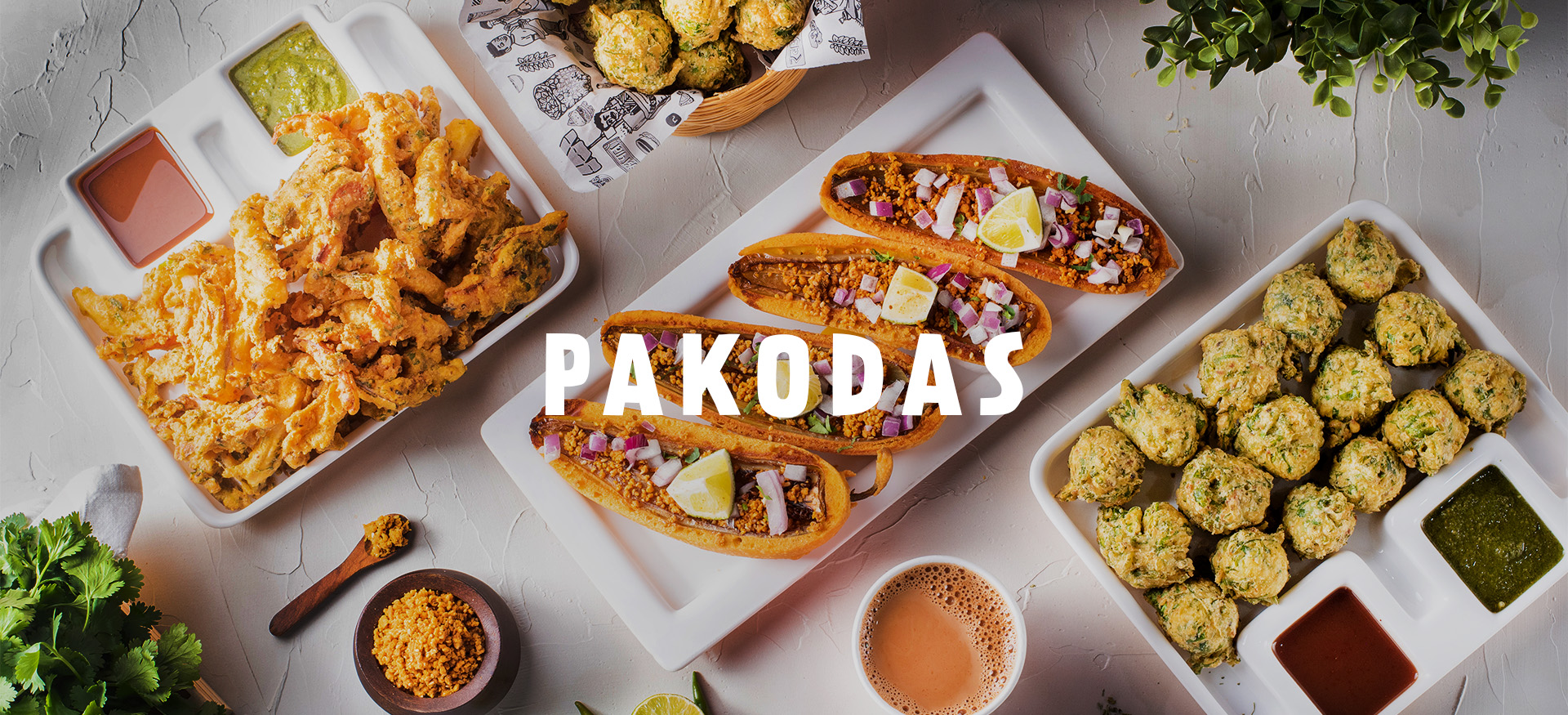 The aroma of the wet mud and the pitter-patter of raindrops falling on the window sill makes every Indian remember 'Pakodas' and 'Chai'.
read more
This is the most divine combination of cold weather and food. 'Pakodas' are like vegetable fritters, sometimes served with one or more chutneys, and is usually eaten as a tea-time snack.
We Indians make these all the time when we have guests come over unannounced. It is simple and tasty and goes well with almost anything ranging from bread to curry or with tea. There are street stalls that serve pakodas and even entire stores that only make different kinds of pakodas. The 'Pakodas' are a full meal for many people living in India.
show less
Cut Mirchi
This nutty yet spicy dish will give you a sense ….
read more
of tasteful satisfaction.
Banana peppers, deep-fried, then cut and filled with peanut masala, onions, cilantro, and lime.

show less

Methi Gota
These are a specialty from the Western Region ….
read more
in India, Gujarat.
A complex fusion of zesty and savory spices with a light bitterness from fenugreek leaves (methi) makes this dish incredibly delicious. Chopped spinach, fenugreek leaves, spices, deep-fried in a chickpea flour batter served with mint-cilantro chutney and tamarind chutney.

show less

Mirchi Bhajiya
Originating in the Western region of India, …
read more
Rajasthan. Huge vessels
are used for deep frying and are sold street-side making you a part of the process. If you can handle the spice this is a must-try! Hot chili-peppers are deep-fried in chickpea flour batter, served with mint-cilantro chutney and tamarind chutney.

show less


Veg Pakoda
An all-time favorite is these…
read more
vegetable pakodas.
Chopped carrots, cabbage, onions, spinach, sweet bell peppers, spices, deep-fried in chickpea flour batter and served with tamarind chutney and mint-cilantro chutney.

show less

Onion Pakoda
These crispy and spicy onion fritters are and …
read more
will be an
eternal favorite. Onions and spices, deep-fried in chickpea flour batter, served with mint-cilantro chutney and tamarind chutney.

show less