YES, you can get an entire meal street side in India. A street meal is usually a spicy vegetable curry or sabji (spiced spices) served vegetables with sautéed any type in of oil bread.
read more
with a The variety whole of experience of everything being cooked right in front of the you form in huge of puris vessels, being and fried even right bread in front toasted you, or will in leave you in awe. It will be evident that these cooks are around talented everywhere and are and super you quick. will The know aroma from is afar spread the treat you are in for.
These meals are delicious and will make you feel content. They are popular in college and office cafeterias shopping/commercial and vendors areas, are around largely offices seen and in schools. Street meals are available at any time of the day or night. You will never go hungry – that's for sure!
show less
Special Gujarati Thali
Three types of sabjis (various), rice, roti, gujrati dal (soup),…
read more
Shrikhand (a sweet dish made of strained yogurt), Farsan (side dishes that complement the main meal), raita (yogurt with spices, cucumber, and carrots), pickles (spicy and tangy mixed vegetables), mix bean salad, Papad all these served in small bowls and dividers.
show less

Pav Bhaji
A very popular dish from the streets of Mumbai is a favorite of almost…
read more
everyone. A medley of mashed vegetables (potato, cauliflower, green peas, green peppers, beetroot, tomatoes ) cooked on a flat cast iron pan with garlic, ginger, and our own homemade "Pav bhaji Masala". A must-try dish served with buttered dinner rolls "Pav", lime wedge and chopped onions.
show less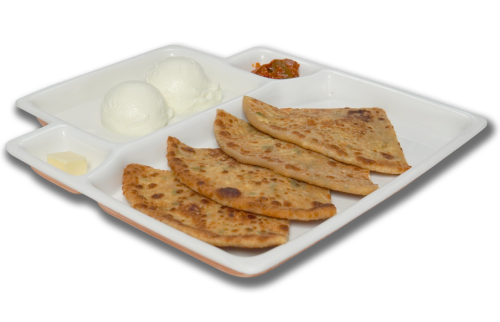 Paneer Paratha
The creamy texture of paneer (cottage cheese) along with the soft…
read more
and fluffy flatbread is the ultimate combination. Whole wheat flatbread stuffed with spicy paneer mix, served with pickles and plain yogurt.
show less
Puri Bhaji
Popular on railway platforms or as a packed lunch ….
read more
on trains.
This dish is largely eaten as breakfast or lunch. The Bhaji is mostly potato and spices, sautéed with oil, and served with two whole wheat fried pieces of bread.

show less


Undhiu Puri
Undhiyu is a masterpiece from the region of Gujarat…
read more
'Undhu'
in gujarati means upside down and that is how this dish was traditionally cooked – upside down underground in earthen pots fired from above. It is a seasonal preparation since some of the vegetables used only grew in winters along the Southern coastline of Gujarat. It is like a little slice of sweet and savory heaven served on a plate. Boiled vegetables (toor beans, papdi beans), deep-fried vegetables(potato, yum, eggplant, carrots, plantain), and Muthiya (chickpea flour and fenugreek leaves balls) mixed together and pan-fried with oil, water, and cilantro. served with two deep-fried whole wheat bread "Puri's."

show less

Mini Gujarati Thali
A small version for a small appetite or just to taste….
read more
Potato-eggplant
curry, mixed vegetable curry, gujarati dal (sweet-sour and spicy), 3 whole wheat rotis, and basmati rice.

show less


Chole Bhature
Originated in Northern India, Punjab. It used to be a heavy breakfast…
read more
dish but is now eaten at any time for any meal. It is a combination of a spicy chickpea curry accompanied with Bhature (fried all-purpose flour bread). There are various versions of Chole Bhature all around India and this is our take on it – a spicy and flavorful feast for your taste buds. Boiled chickpeas cooked with onions, tomatoes, and spiced gravy, accompanied with fermented all-purpose flour bhature (fried puffed bread), chopped raw onions, and a slice of lime on the side.
show less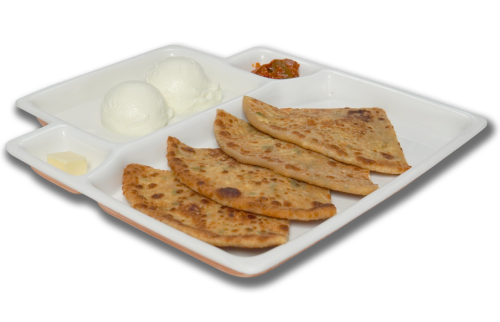 Aloo Paratha
One of the most popular dishes in Northern, Central,…
read more
and Western
India and also universally acclaimed! A robust combination of spicy and savory stuffing in the buttery flatbread is absolutely divine. Whole wheat flatbread stuffed with spicy potato mix, served with pickles and plain yogurt.

show less