Now it's time to experience the cuisine of the South.
read more
This cuisine uses the ingredients that are largely available in coastal regions such as rice, coconut, tamarind, lentils, mustard seeds to name a few. North Indian cuisine and South Indian cuisine are polar opposites quite literally! The staple grain of the North is wheat and hence serves a lot of bread and roti.
The staple grain of the South is rice and can be mixed with lentils or other vegetables to make a variety of dishes. With two monsoon seasons a year and the tropical weather, spices are grown in abundance and hence this cuisine is usually spicier in taste. Customized Dosas (rice and lentil crepe) and steamed Idli (rice cakes) are a big part of the street food culture in metropolitan cities like Mumbai, Pune and Delhi. All our South Indian varieties are served with Sambhar (spicy lentil-vegetable soup) and two chutneys; coconut and tomato-onion-peanut. Are you ready to dig in?
show less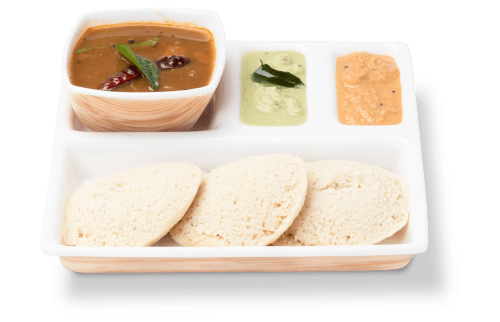 Idly Sambhar
A traditional breakfast in South Indian homes is this savory cake…
read more
about 4-5inches in diameter. This fluffy cotton ball, when dipped in spicy vegetable soup and accompanied with the fresh-tasting grated coconut chutney and the nutty orange sauce, will suddenly make you feel like your life is now complete! Patties made from steamed rice and lentil batter served with sambhar, tomato-onion-peanut chutney, and coconut chutney.
show less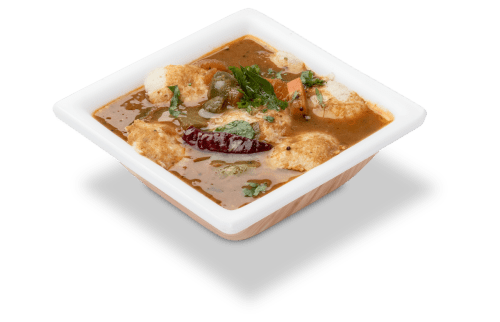 Mini Idly Sambhar
Mini idlis dipped in sambhar and garnished with ghee (clarified butter)…
read more
and cilantro. The mini idlis are soaked with sambhar and when you take a bite they will literally melt and there will be a burst of sambhar flavors. A truly unforgettable experience.
show less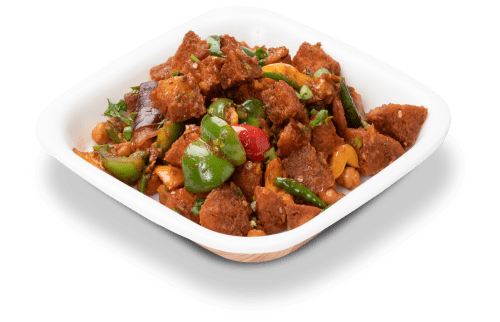 Chili Idly
A fusion of South Indian and Chinese will make you feel pleasantly…
read more
surprised. Fried idli (rice cake) cubes, sweet bell peppers, Thai green peppers, tangy chole (white chickpea) tossed in Manchurian sauce, spices, and green onions.
show less
Idly Vada Platter
When you want the best of both worlds the platter is a must. Two…
read more
idlis and two vadas served with sambhar, coconut chutney, tomato-onion-peanut chutney.
show less
Vada Sambhar
Another regular in a South Indian household is the Vada Sambhar….
read more
Savory lentil donuts are deep-fried and when dipped in the sambhar and chutneys taste like the perfect balance between all these amazing flavors. Three vadas (savory lentil donuts), sambhar, coconut chutney, and tomato-onion-peanut chutney.
show less